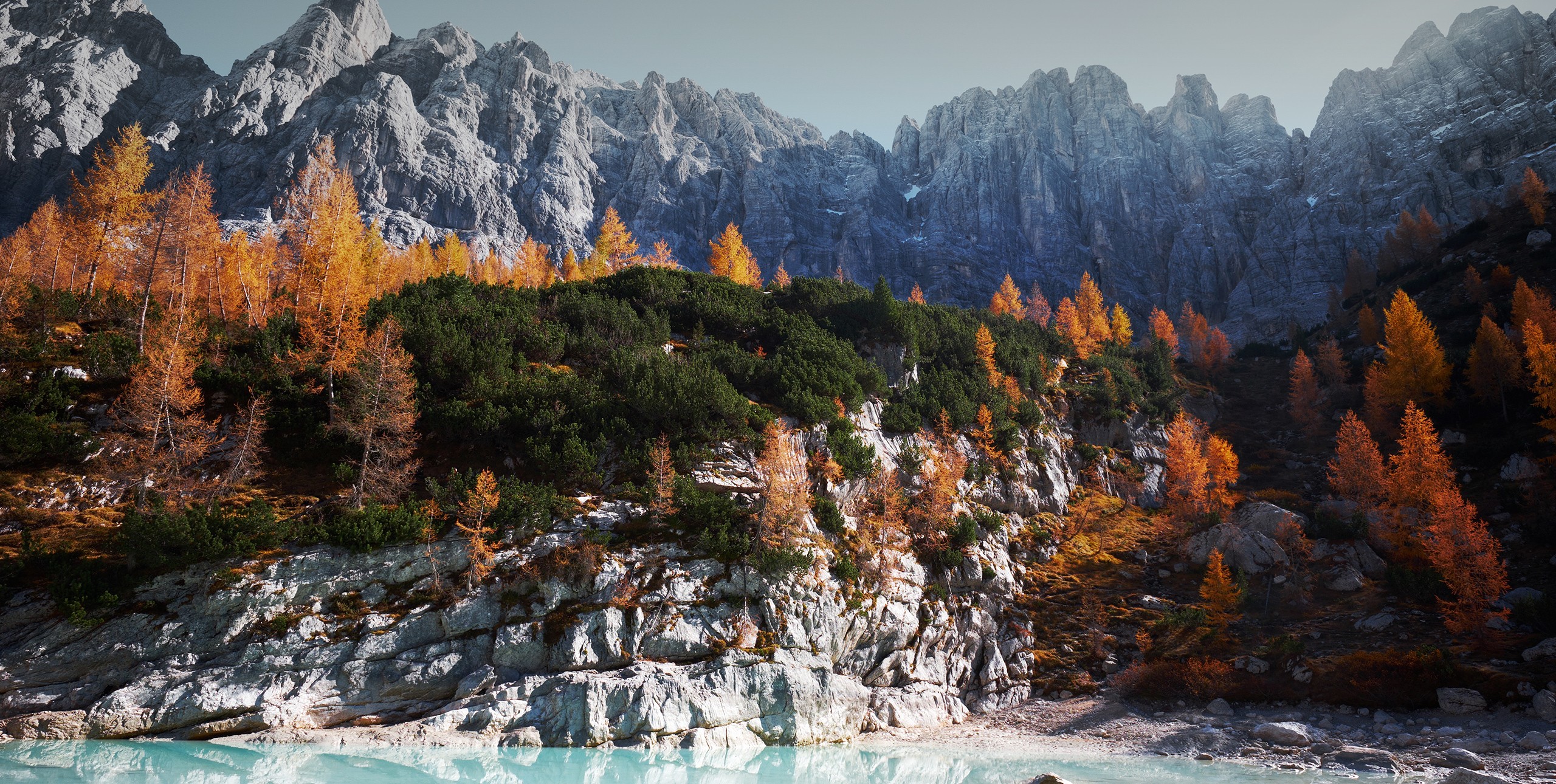 IT DOES NOT MATTER IF YOUR HORSE HAS FOUR LEGS OR FOUR TIRES, SADDLE UP AND RIDE ON DOWN. THERE ARE NO STRANGERS AT COWGIRL XING!
YALL COME ON NOW, YA HEAR?!
HORSES ARE THE BEST REASON TO WAKE UP EARLY.
VIRGINIA REGULATIONS STATE YOU MUST WEAR A MASK WHEN VISITING OUR STORE.
We have moved!! Come and Visit our store At its new location. 17 Main st SMITHFIEld,
Boots, Hats, Gifts and more... Everything but THE HORSE!
WE OFFER CURB-SIDE PICK UP. Did you see something on our FACEBOOK page or INSTAGRAM page? CALL US AT 757 960 4000 Make your purchase over the phone and we will have it ready for you to pick up at the CURB or we offer shipping at a low cost. CALL TODAY TO GET YOUR MOST WANTED BOOTS!
STORE HOURS
Sun CLOSED Mon CLOSED Tues 11:7 Wed 11- 7 Thur 12-7 Fri 12-8 Sat 10-8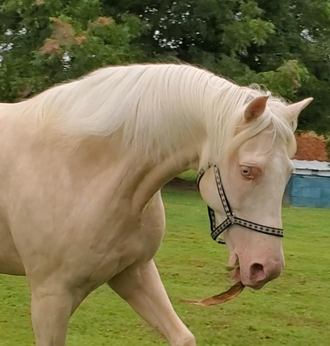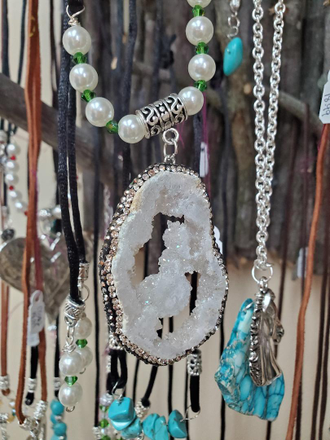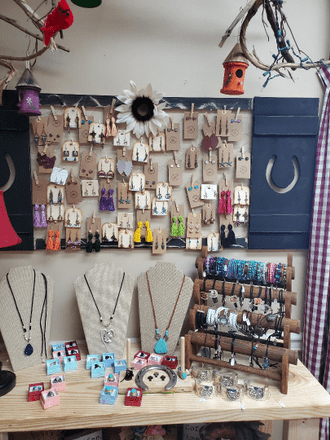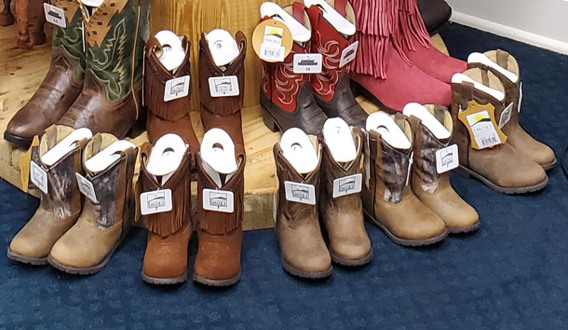 Conceal Carry Permit Class Held at our store in April. Sign up now. Go to the following link http://www.virginiaconcealcarry.com/
SMOKY MOUNTAIN BOOTS & BULLHIDE HATS

It does not matter if you are going to church or going to the barn. You can wear your beautiful cowgirl boots that you bought at an affordable price at COWGIRL CROSSING. They are sure to turn heads. And when the heads turn, they will really notice that beautiful Cowgirl hat that you will be showing off. Stay in style with Smoky Mountain's gorgeous comfy boots and Bullhide's gorgeous comfy hats.

A little more about us....

It is the desire of Cowgirl Crossing to be able to outfit every local and any cowgirl who walks into our store with a quality but affordable pair of cowgirl boots and a beautiful cowgirl hat. Whether you are riding your special horse on the trail or going out with family and friends, every cowgirl needs to feel special and deserves to look spectacular. At Cowgirl Crossing you can find so many things. Besides Cowgirl hats and Cowgirl boots, you can find jewelry, soap, lotions, body scrubs, and other wonderful items to decorate your home. Gifts of many kinds and WHOA, you can even find a new stylish Bible that you can use every day. On rainy days, when we cannot ride our beloved beast, you can find a good book to read, and then wrap up into one of Ms. Rosie's or Ms. Tommie's beautiful quilts to stay warm. Here at Cowgirl Crossing we are excited to offer a slew of items. Our mission is to see you walk out of our store with a smile on your face and new friends in your heart.

The horse's name is GHOST. He is a breath of fresh air to Sherry Ross, that's me, his owner. Ghost came to me at a perfect time after I had faced unexpected disappointment and heartache. Lets just say it was a life change that Satan tried to use against me but God used to strengthen me. God used this horse to push me forward. Ghost has renewed a type of energy in my life that I once had years ago but I lost in a circle of frets. This horse was a gift from God for sure, and my dear husband, Gary. Its amazing how God will use an animal in your life. I thank my sister, Sheila for suggesting it was time for me to get another horse. Ghost is my blue eyed prince. He never fails to run to meet me at the gate probably because he is hungry but I like to believe its because he loves me. The trip to Kentucky was well worth the travel to find this dear friend of mine. So grateful, so very grateful for Ghost.
SHOP LOCAL AND SMALL. BE SWEET AND SHOP SMART!
IT DOESN'T MATTER WHAT WE ARE GOING THROUGH, OUR HORSES STILL HAVE TO EAT, STALLS CLEANED, AND HORSES GROOMED.
YOU'LL BE HAPPIEST IN YOUR COWGIRL BOOTS AND HAT!!
OUR
SOCKS
HAVE ARRIVED
. SOME ARE WOOL, SOME ARE COTTON/ACRYLIC. BUT I DO KNOW THIS: THEY ARE COZY. ALSO, JUST RECEIVED SOME BEAUTIFUL NEW JEWELRY PIECES, AND FOR YOU EQUESTRIANS, WE HAVE SOME EQUESTRIAN
HEAD BANDS
FOR UNDER YOUR RIDING HELMETS.
THANKS TO SMOKY MOUNTAIN BOOTS and BULLHIDE HATS EVERY ORDER ARRIVED BEFORE CHRISTMAS! YOU GUYS ARE THE BEST!
LIKE THIS DECORATED HORSE BELOW? WE CAN HELP YOU DECORATE YOUR HORSE FOR HIS NEXT SHOW. WE CAN CUSTOM MAKE TASSELS OF ANY COLOR TO HANG ON HIS BRIDLE OR HALTER OR SADDLE. WE JUST NEED A FEW DAYS TO MAKE THEM. $5.50 PER TASSEL OR 25.00 FOR A SET OF 5. CALL US AT THE SHOP AND PLACE YOUR CUSTOM ORDER TODAY!
MONTANA WEST PURSES ARE HERE!! CONCEALED WEAPON PURSES ARE AVAILABLE ALSO
IF YOU ARE A BARREL RACER YOU CAN COLLECT REWARDS FROM THE COWGIRL CROSSING REWARDS CARD. EACH TIME YOU MAKE A PURCHASE YOU CAN GET A HOLE PUNCH IN YOUR CARD. AFTER 5 PUNCHES, YOU CAN GET 40 PERCENT OFF A NEW BULLHIDE COWGIRL/COWBOY HAT. COME TO THE SHOP, MAKE A PURCHASE AND GET YOUR CARD.
ATTN HUNTER JUMPERS YOU PEOPLE ARE AMAZING! WOW-THOSE JUMPS!!! THERE ARE REWARDS FOR YOU AT COWGIRL CROSSING. YOU CAN COLLECT YOUR PERSONAL REWARDS CARD, AFTER EACH PURCHASE WE WILL PUNCH YOUR CARD. AFTER THE 5TH PUNCH, YOU CAN EARN 40% OFF YOUR FAVORITE COWGIRL HAT. SO AFTER THE SHOW, TAKE OFF YOUR HELMET AND COME TO COWGIRL CROSSING AND GET YOURSELF IN THAT PRETTY COWGIRL HAT.
HAVE YOU HUGGED YOUR HORSE TODAY?
We can ship straight to your door.